Lamb and Rosemary Pastitsio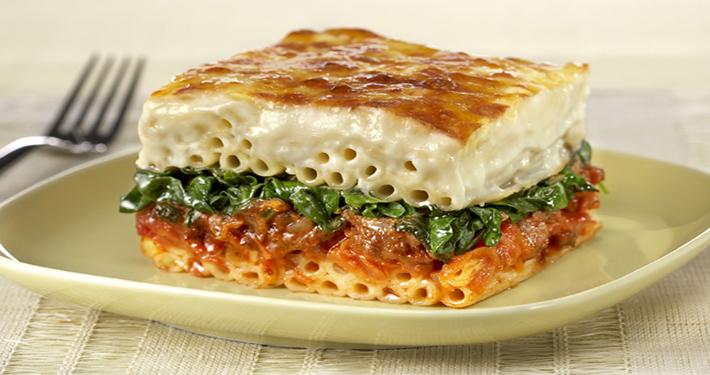 Preparation Time:
40 minutes
Ingredients
700g bottle Italian tomato cooking sauce
2 cups milk
1/4 cup plain flour
20g Anchor Butter
Nutmeg, to taste
1 cup Grated Perfect Italiano Mozzarella
1/2 cup Grated Perfect Italian Parmesan
2 eggs, lightly beaten
500g Penne pasta, cooked and drained
20g Anchor Butter, extra
1 clove garlic, extra, crushed
500g baby spinach leaves, washed
125g pack Perfect Italiano Perfect Pizza 
Crisp green salad, for serving
Steps
Remove casings from sausages and break up sausage mince. Cook mince, onion and garlic in large non-stick saucepan over medium heat, breaking up mince with a wooden spoon until well browned.
Add carrot, red wine and tomato sauce and bring to the boil. Reduce heat and simmer for 30 minutes, stirring occasionally.
Meanwhile combine milk, flour, butter and nutmeg in a saucepan and bring to the boil, whisking continuously.  Simmer for 2-3 minutes, before adding Perfect Italiano Grated Mozzarella and Grated Parmesan. Remove from heat, cover and cool for 10 minutes. Whisk eggs into sauce. Add 1/2 cup white sauce to cooked penne and stir until pasta is well coated.
Heat butter in a large frypan, add garlic and spinach and cook until spinach is wilted.
Layer ingredients in a deep 25cm x 30cm baking dish in the following order: 1/2 penne pasta, meat sauce, sautéed spinach, 1/2 penne pasta and white sauce. Sprinkle with Perfect Italiano Perfect Pizza.
Bake at 180°C for 30-35 minutes, until bubbling and golden. Serve warm with a crisp green salad.