Italian Meatball Pasta Bake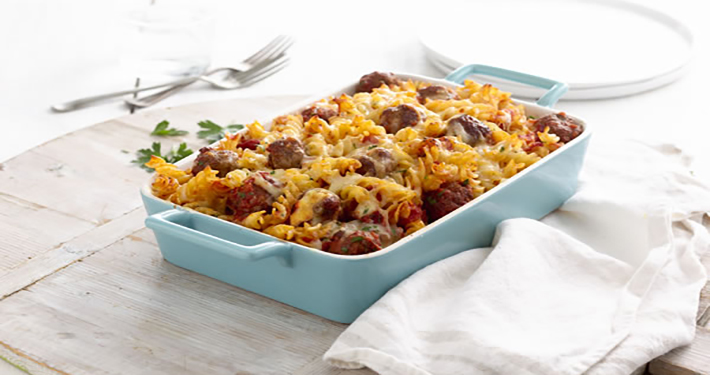 Preparation Time:
15 minutes
Ingredients
400g fusilli (spirals) pasta
500g beef mince
3 cloves garlic, crushed
1 egg, beaten
¼ cup dried breadcrumbs
¼ cup olive oil
1 small onion, finely chopped
250ml beef stock
400g can diced tomatoes
2 tbsp basil, chopped
½ packet of Perfect Italiano Perfect Bakes
Salt and Pepper
Steps
To make the meatballs, mix the beef mince, garlic, egg, Perfect Italiano Traditional Hard cheese and breadcrumbs in a bowl. Season with salt and pepper. Round into small balls.
Place the olive oil in a large saucepan over a high heat. Add the meatballs and cook for 5 minutes or until browned. Remove and set aside.
Sauté onion in a pot over a medium heat until soft. Add the stock and tomatoes then simmer for 5 min or until mixture reduces slightly. Add the meatballs, and bring to boil. Cover and cook for 10 min or until the sauce thickens. Remove from the heat and stir in the basil.
Meanwhile, cook the pasta, drain and toss to combine into the pot of sauce.
Transfer into a baking dish and sprinkle over the Perfect Italiano Perfect Bakes cheese.
Bake for 20 min in pre-heated 200°C oven or until the cheese is melted golden brown.