Homemade Cheesy Sausages & Mash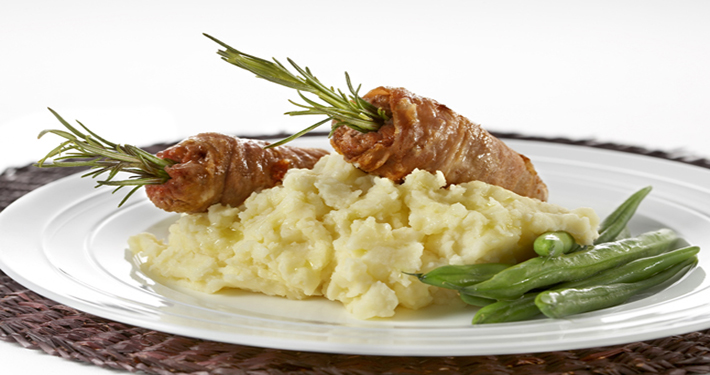 Preparation Time:
30 minutes
Ingredients

1kg good quality beef mince
1 clove garlic, crushed
1 – 2 tablespoons rice flour or plain flour
Salt and freshly ground black pepper, to taste
12 rosemary stalks
12 thin slices prosciutto or thinly sliced bacon
1kg desiree potatoes, peeled and cubed
3/4 cup milk
1 cup grated Perfect Italiano Parmesan
50g Anchor Butter
Olive Oil, for frying
Steamed vegetables, for serving
Steps
Combine mince, garlic, Perfect Italiano Perfect Pizza, rice flour and seasoning until well combined.  Remove the leaves from each rosemary stalk leaving some on top and shape mince into thin sausages around each stalk.  Wrap a slice of prosciutto around each sausage and refrigerate until required.
Cook potatoes in a large pot of boiling salted water until tender.  Drain and return to pot.  Add milk, Perfect Italiano Parmesan and butter. Mash until smooth.  Cover and keep warm.
Heat oil in a frypan over medium heat and cook sausages for 5-10 minutes or until cooked through.
Serve sausages with mash and steamed vegetables.