Herbed Pork Meatballs with Cheesy Topping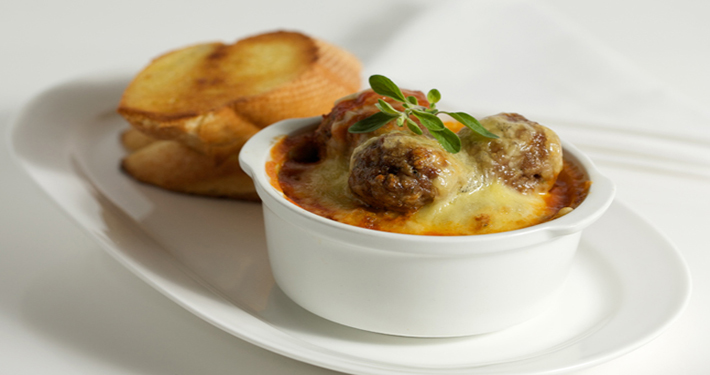 Preparation Time:
30 minutes
Ingredients
1 onion, finely chopped
2 cloves garlic, crushed
1 tblsp water
700ml tomato pasta sauce (can be purchased from supermarkets)
1 tspn sugar
500g minced pork
1 egg, lightly beaten
50g dried breadcrumbs
1/3 bunch chopped fresh parsley
Crusty bread to serve
300g Grated Perfect Italiano Mozzarella
Salt & pepper to taste
Steps
Heat a nonstick heavy based frypan and cook the onion and garlic with the water until onion is soft and transparent. Remove half of onion mixture and place in bowl.
Add tomato sauce and sugar to remaining mixture in pan and simmer, uncovered for 15-20 minutes until slightly thickened.
Combine remaining cooled onion mixture with mince, egg, breadcrumbs and parsley, then season with salt and pepper.
Roll tablespoons of mixture into balls. Place on a baking tray and bake at 200°C for 15 minutes or until cooked through.
Transfer meatballs and sauce to an ovenproof baking dish and sprinkle with Perfect Italiano Grated Cheese. Return to the oven for 15-20 minutes or until cheese has melted. Serve with crusty bread.