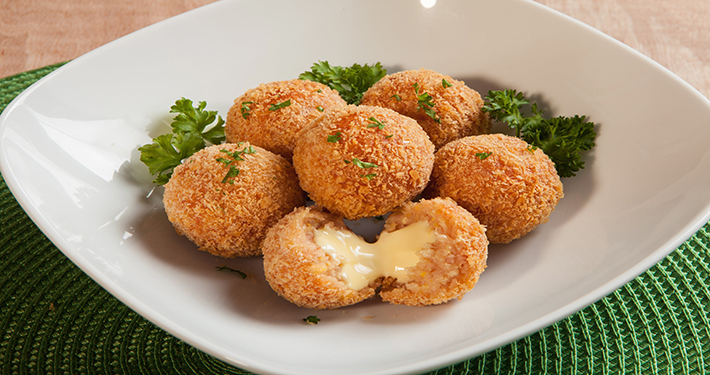 Preparation Time:
15 minutes
Ingredients
1 egg, beaten
Extra breadcrumbs for coating
Cooking oil
1 can corn bits
100g chicken ham
1 1/2 cup breadcrumbs
Salt and pepper to taste
Steps
Pinch the Perfect Italiano Mozzarella and Traditional Hard Cheese together to form a 1 cm diameter ball.
Blitz or finely chop ham, corn (leave a bit of whole corn bits inside), and breadcrumbs together and mix until you get a paste texture. Add salt and pepper.
Adjust with more breadcrumbs if the mixture is too moist.
Take about 1.5 tbsp of paste and flatten with both palms.
Place the 1 cm cheese ball into the center then gently fold and enclose by rolling them smoothly between the palms to form about a 4 cm diameter ball.
Coat balls with beaten egg followed by breadcrumbs.
In a hot pan, pan fry the croquettes until golden brown.