Chicken Mushroom Farfelle Bake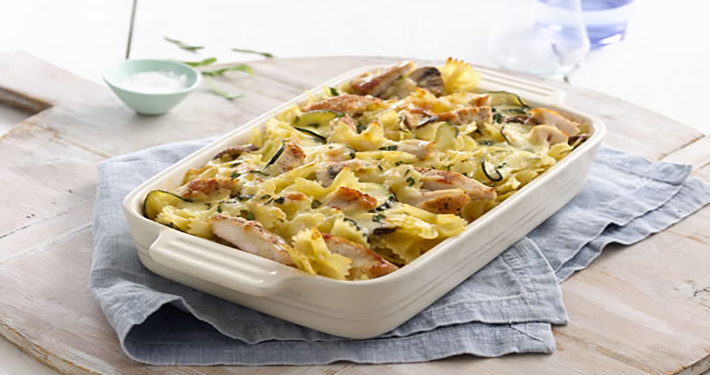 Preparation Time:
15 minutes
Ingredients
400g farfalle pasta
2 tbsp olive oil
2  chicken breast fillets
1 small onion, finely chopped
150g button mushrooms, sliced
1 zucchini, thinly sliced
3 cloves garlic, sliced
1 tbsp thyme
2 tbsp flour
80ml white wine
300ml cooking cream
⅓ packet of Perfect Italiano Perfect Bakes
Steps
Cook the pasta in salted boiling water until al dente. Drain and set aside.
Place 1 tbsp of olive oil in a large frying pan over a medium-high heat. Add the chicken and cook for 5 min on each side or until cooked through. Transfer the chicken to a plate.
Place the remaining olive oil in a large saucepan over a medium-high heat. Add the onion and sauté for 2 min or until soft. Add the mushrooms and cook for 3-4 min. Add the garlic, thyme and zucchini and cook for another 2 min.
Add the flour and stir for 1 min. Add the wine and bring the mixture to the boil while stirring. 
Reduce the heat to low and add the cream.  Stir well to combine, and simmer for 2-3 min. Remove from the heat.
Thinly slice the chicken and add it to the mixture along with the pasta. Season with salt and pepper.
Transfer into a large baking dish and sprinkle over the Perfect Italiano Perfect Bakes cheese.
Bake for 20 min in a pre-heated 200°C oven or until the cheese is melted golden brown.