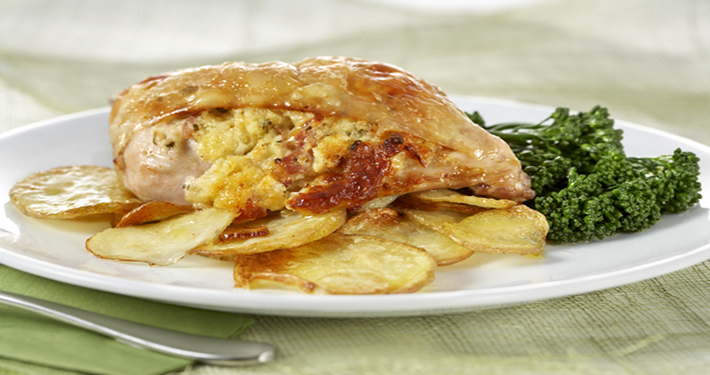 Preparation Time:
30 minutes
Cooking Time:
1hr 10 minutes
Ingredients
15g Anchor Butter
1/2 onion, finely chopped
1 clove garlic, crushed1 clove garlic, crushed
3 thin slices prosciutto
1 cup fresh breadcrumbs
3/4 cup Perfect Italiano Traditional Hard Cheese Grated
125g Ricotta
1/2 teaspoon lemon rind
1 tablespoon chopped fresh oregano leaves
Salt and freshly ground black pepper, to taste
6 Chicken Marylands with skin on
1kg potatoes, thinly sliced
Olive oil, for drizzling
1 clove of garlic, extra, thinly sliced
Steamed vegetables, for serving
Steps
Melt butter in a large frying pan over low heat.  Add onion, garlic and prosciutto. Sauté until onion is soft.
Combine onion mixture, breadcrumbs, Perfect Italiano Traditional Hard Cheese Grated, Ricotta, lemon rind, oregano and season to taste.
Using wet fingers loosen skin from chicken flesh to form a pocket and fill with cheese mixture.  Combine potatoes, oil, sliced garlic and seasonings in a large roasting pan.  Arrange chicken over potatoes and bake at 180°C fan forced for 1 hour or until chicken is cooked and potatoes are golden.
Serve chicken with roasted potatoes and steamed vegetables.