Chicken and Sundried Tomato Meatballs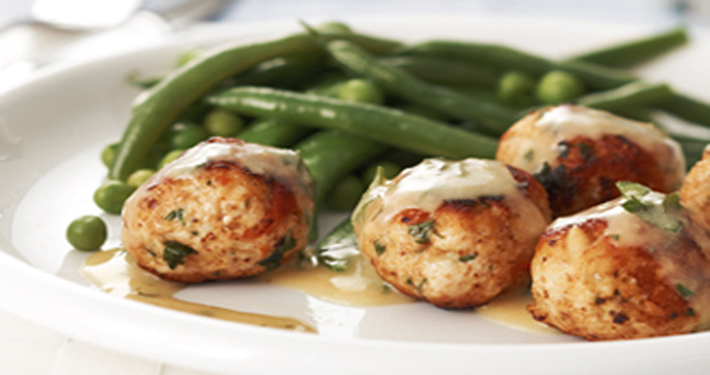 Preparation Time:
10 minutes
Ingredients
60g Anchor Butter
500g minced chicken
1/4 cup firmly packed sundried tomatoes in oil, drained and finely chopped
1/3 cup parsley, finely chopped
1/4 cup grated Perfect Italiano Traditional Hard Cheese
1/4 cup toasted pine nuts
1/2 cup dry breadcrumbs
1 egg
2 cloves garlic, crushed
1/4 cup water
1 tablespoon olive oil
1 teaspoon plain flour
Steps
Combine mince, sundried tomatoes, 1/4 cup parsley, pine nuts, traditional hard cheese, breadcrumbs, egg and 1 clove garlic, season with salt and pepper. Knead the mixture with clean hands, slowly adding water and kneading between additions until incorporated. Use the mixture to form small balls.
Heat 40g butter and oil in a large non-stick frypan, panfry meatballs until browned and cooked through. Keep warm.
Wipe excess fat from pan, add remaining butter and garlic, fry for 30 seconds, add flour and cook for another minute, add white wine and mustard, bring to the boil for 1 minute until thickened slightly then stir through remaining parsley.
Serve meatballs with steamed vegetables and mashed potatoes, drizzled with white wine sauce.