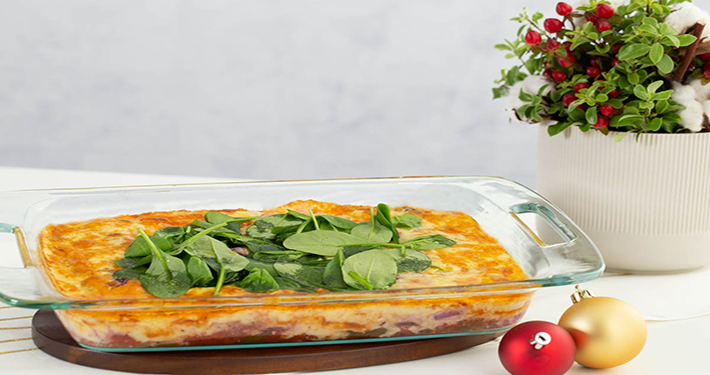 Preparation Time:
20 minutes
Ingredients
450g Perfect Italiano Perfect Bakes, divided into 150/300g
25g Anchor Unsalted Butter
1 can fresh tomatoes
1 cup baby spinach
1 teaspoon Italian seasoning
Salt and fresh ground black pepper to taste
2 large sweet potatoes, peeled and spiralized
Steps
Preheat oven to 300°C and spray a Pyrex oblong baking dish with cooking spray.
In a Pyrex mixing bowl, mix together 300g Perfect Italiano Perfect Bakes Cheese, Anchor Butter, Perfect Italiano Ricotta Cheese, until combined. Set aside cheese topping.
Slice the sweet potatoes and boil it in a Corningware casserole.
In a small saucepan over medium heat, add spinach, tomatoes, salt and pepper and Italian seasoning.  Heat the mixture until the spinach wilts, set aside red sauce.
Spread all of the red sauce onto the bottom of the baking dish.
Top with half of the sweet potatoes.
Add half of the cheese topping and then the remaining half of sweet potatoes and repeat the process.
Sprinkle the remaining 150g Perfect Italiano Perfect Bakes Cheese on top.  Cover the dish with foil and bake for 30 minutes.
Remove the foil after 30 minutes and bake for another 10 minutes
Let it rest for 5 to 10 minutes before serving on Corelle plate.