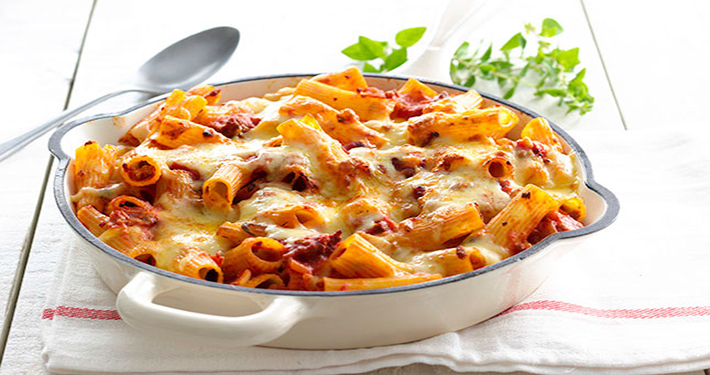 Preparation Time:
15 minutes
Cooking Time:
1 hour 5 minutes
Ingredients
500g veal and pork mince
1 brown onion, diced
3 cloves garlic, crushed
Handful fresh oregano leaves, chopped
2 carrots, diced
400g can diced tomatoes
3 tbsp tomato paste
1 cup stock + 1 cup water
500g rigatoni pasta
20g butter
½ packet of Perfect Italiano Perfect Bakes
Salt and black pepper
Steps
Pre heat oven to 180°C.
Heat oil in a large heavy based pot over high heat. Add a splash of oil and mince and cook for 5 minutes until browned. Add onion, garlic, oregano and carrots and cook until softened.
Add the tomatoes, paste, stock and water then season with salt and pepper and simmer for 45 minutes until the liquid has reduced and sauce has thickened. Remove from heat.
Bring a large pot of salted water to the boil. Add pasta and cook until al dente then drain well.
Add drained pasta, butter and half of the Perfect Italiano Perfect Bakes cheese to the bolognese sauce and season with salt and pepper.
Place in a large baking dish and top with the remaining Perfect Italiano Perfect Bakes cheese. Bake in oven for 20 minutes until cheese is melted golden brown. Remove from oven and allow to rest for a few minutes, then serve.