Bacon Cauliflower Macaroni Cheese Bake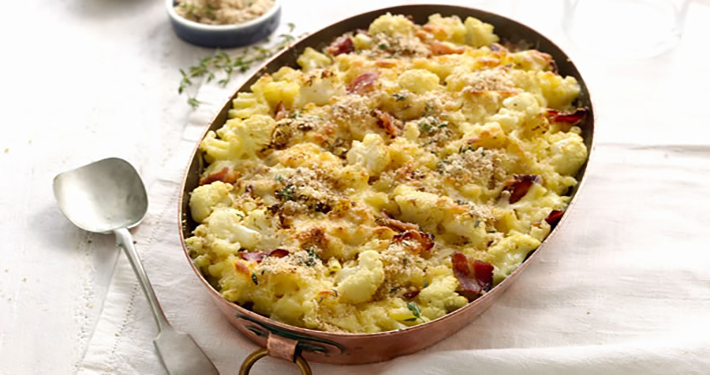 Preparation Time:
15 minutes
Ingredients
400g macaroni
300g Cauliflower florets, steamed
2 tbsp Olive oil
6 slices Bacon, diced
40g Anchor Unsalted butter
1/4 cup flour
2 cups milk
3/4 cup dried breadcrumbs
1 tbsp thyme
Salt and Pepper
Steps
Cook the macaroni in salted boiling water. Drain and set aside.
Meanwhile, place 1 tbsp of the olive oil in a medium saucepan over a medium-high heat. Add the diced bacon, and cook for 2-3 min until brown. Transfer to a plate.
Melt the Anchor butter in the saucepan. Add the flour, and stir for 1 min. Gradually add the milk, stirring until smooth. Stir for 5 min or until the sauce boils and thickens. Stir in 1 cup of Perfect Italiano Perfect Bakes cheese.
Place the macaroni into a large bowl. Add the cauliflower, cheese sauce, bacon, and season with salt and pepper. Stir well until combined and then spoon into a large baking dish.
Top with the remaining Perfect Italiano Perfect Bakes cheese.
Toss the breadcrumbs with the olive oil and thyme. Finish off by sprinkling them over.
Bake for 20 min in pre-heated 200°C oven or until the cheese is melted golden brown.