Ricotta and Parmesan Parcels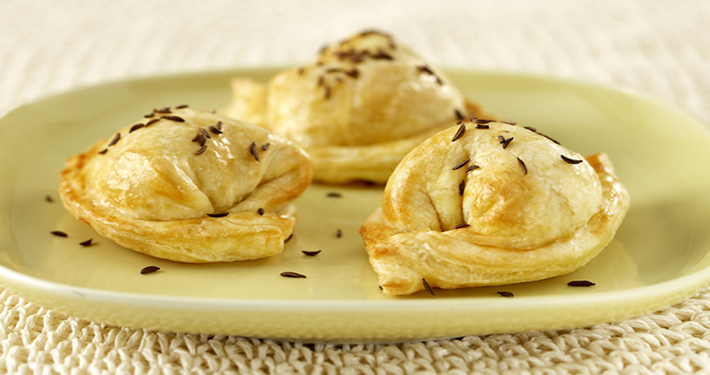 Preparation Time:
20 minutes
Ingredients
20g Anchor Butter
1 small leek, thinly sliced
250g tub ricotta
1 egg, lightly beaten
Freshly grated nutmeg, to taste
Salt and freshly ground black pepper, to taste
2 sheets butter puff pastry, thawed
1 egg, extra, lightly beaten
Caraway seeds, for sprinkling
Steps
Melt butter in a frypan and cook leek gently for 5 minutes until softened.  Allow to cool.
Grated Parmesan combine with ricotta, egg, cooked leek, nutmeg and seasonings.
Cut each pastry sheet into 9 squares and place a spoonful of cheese filling onto each.  Fold each square over to form a triangle, press edges firmly to seal and enclose filling.
Curve each triangle around your fingertip and press the two ends together.  Place on a lined baking tray, brush with extra egg and sprinkle with caraway seeds. Bake at 200°C for 15 minutes or until golden and cooked.  Serve warm with drinks or as part of a meal.